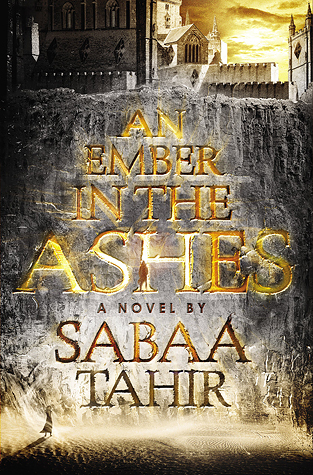 Title
: An Ember In the Ashes (An Ember In the Ashes #1)
Author
: Sabaa Tahir
Genre
: YA, Fantasy
Pages
: 446
Published
: April 28th 2015
Summary
:
Laia is a slave.

Elias is a soldier.

Neither is free.
Under the Martial Empire, defiance is met with death. Those who do not vow their blood and bodies to the Emperor risk the execution of their loved ones and the destruction of all they hold dear.
It is in this brutal world, inspired by ancient Rome, that Laia lives with her grandparents and older brother. The family ekes out an existence in the Empire's impoverished backstreets. They do not challenge the Empire. They've seen what happens to those who do.
But when Laia's brother is arrested for treason, Laia is forced to make a decision. In exchange for help from rebels who promise to rescue her brother, she will risk her life to spy for them from within the Empire's greatest military academy.
There, Laia meets Elias, the school's finest soldier—and secretly, its most unwilling. Elias wants only to be free of the tyranny he's being trained to enforce. He and Laia will soon realize that their destinies are intertwined—and that their choices will change the fate of the Empire itself.
________________________________________________________________________________
A few weeks ago I read
An Ember In the Ashes
with a friend of mine - we both had it at home and thought it would be fun to do a buddy-read. I had ordered it home without really knowing much about it, except that a lot of people loved it and that the cover was stunning.
But there is a lot more to this book than a beautiful cover, although that doesn't hurt, either. We follow the events from two perspectives, Laia's and Elias' - at first their stories were separate but slowly they worked their way towards each other until they were intertwining. Though the two of them come from very different worlds, they have a lot in common and I was hooked from the start.
What I liked most about Laia was that she was scared, because we seldom get to read about scared people and that is what I really can identify myself with the most. The situations they are in are terrifying, and I know I would be scared. Getting to read about a young girl who was scared too, was nice. And inspiring, because she didn't let her fear stop her from doing what she believed was right, and she developed a lot through the book.
I really liked Elias as well, how he had to balance between who he was in his heart and who the people around him forced him to be, how he was searching for a life where he could just be himself. I also liked to read about his relationship to Helene, his best friend, and how it changed and became weird when things started changing between them. At times it bothered me that they kept avoiding it when they obviously should have just talked, but it also felt realistic. Nobody jumps at the chance to lose the people closest to them.
The world was really interesting too - it took me a while to grip it, but I liked the different cultures that existed and how stories were truth in some places and myth in others. Tahir really managed to create something unique, and I can't wait to get answers to all of my questions in the next book. Because I have a lot of questions.
The pace, the suspense, the characters, all of it mixed together in something I would like to call an easy five stars. Pick this book up, you won't regret it!

Have you read this book? What did you think?