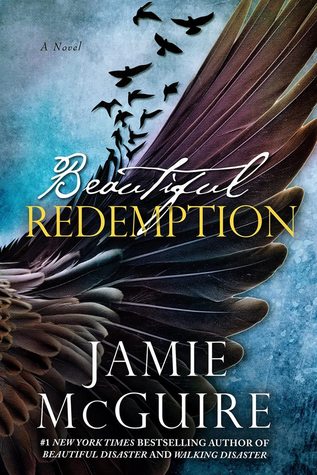 Title
: Beautiful Redemption (Maddox Brothers #2)
Author
: Jamie McGuire
Genre
: New Adult, Romance
Pages
: 260
Published
: January 27th 2015
Summary
:
No-nonsense Liis Lindy is an agent of the FBI. Deciding she is married only to her job, she breaks off her engagement and transfers from Chicago to the field office in San Diego. She loves her desk. She is committed to her laptop. She dreams of promotions and shaking hands with the director after cracking an impossible case.
Special Agent in Charge Thomas Maddox is arrogant, unforgiving, and ruthless. He is tasked with putting away some of the world's toughest criminals, and he is one of the best the Bureau has to offer. Though, as many lives as he's saved, there is one that is beyond his reach. Younger brother Travis is faced with prison time for his involvement in a basement fire that killed dozens of college students, and the media want a conviction. Travis's only savior is his unusual tie to the mob. In a deal that will spare his brother, Thomas has agreed to recruit Travis into the FBI.
Liis is stubborn, defiant, and yet somehow softens Thomas's rough edges, making her the perfect agent to accompany him to the ceremony. Posing as a couple, they must travel to Travis & Abby's beach vow renewal and give him the news, but when the pretending ends, she finds herself wondering if they were pretending at all.
________________________________________________________________________________
Review: (Spoiler-free)
The second - or third really, counting Travis - brother of the Maddox family to have his story put in ink is Thomas, the oldest one. His story is the one I was most excited to read after skimming through the summaries of all the books in this series, because, well, it simply sounded great. And after reading it, I can happily say that it was.
Beautiful Redemption
caught me from page one. Maybe even from the first sentence - I loved Liis from the beginning. She doesn't put up with any bullshit and has Thomas on his knees from the start, which isn't saying little considering Thomas gets his way with everybody else. He is different from his brothers - where they're impulsive he's controlled, when they stay in their hometown working simple jobs, he is climbing the ladder as a fed in California. But though he might differ from his brothers, my eyes were glued to the page.
The story is fast-paced and I loved that they worked as feds and that it was present in the story. It's something I have seen in tv-shows but haven't read many books on before and it was really exciting to read about that kind of work.
Beautiful Redemption
also had more conflict than the first book in the series,
Beautiful Oblivion
- when reading this I almost felt like the first book was a prequel to this one. It had it's own story and it's own characters, though, so not really. But you definitely want to read these books in the right order.
Which brings me to another thing I really appreciated - the connection to
Beautiful Oblivion
. Since we follow different characters with completely different lives, it was nice that the storylines still really built on each other. The line connecting the two plots is
very
clear. No, I won't spoil you, you're just gonna have to go read it for yourself. I also loved seeing Travis and Abby from
Beautiful Disaster
again, because they might just be my favorite couple ever. So yeah. Needless to say, I recommend this big-time.
Now I'm craving the next book! (Which I'm hopefully ordering this weekend.)
Really, 4.5!

Other books in the series:

(Links to Goodreads)

1.

Beautiful Oblivion

2.

Beautiful Redemption

3.

Beautiful Sacrifice

4.

Beautiful Burn Have you read this book? Did you like it?