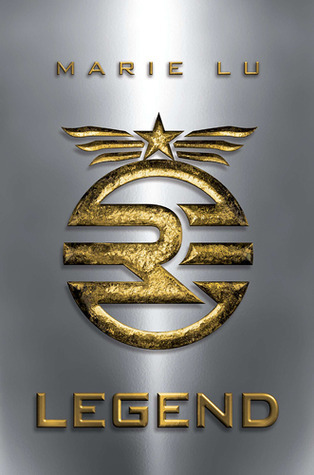 Title
: Legend (Legend #1)
Author
: Marie Lu
Genre
: Dystopia, Romance, Young Adult
Pages
: 305
Published
: November 29th 2011
Summary
:
What was once the western United States is now home to the Republic, a nation perpetually at war with its neighbors. Born into an elite family in one of the Republic's wealthiest districts, fifteen-year-old June is a prodigy being groomed for success in the Republic's highest military circles. Born into the slums, fifteen-year-old Day is the country's most wanted criminal. But his motives may not be as malicious as they seem.

From very different worlds, June and Day have no reason to cross paths—until the day June's brother, Metias, is murdered and Day becomes the prime suspect. Caught in the ultimate game of cat and mouse, Day is in a race for his family's survival, while June seeks to avenge Metias's death. But in a shocking turn of events, the two uncover the truth of what has really brought them together, and the sinister lengths their country will go to keep its secrets.
________________________________________________________________________________
Review: (Spoiler-free)
I've wanted to read Legend for quite some time now, because it's one of those books that has been all over book blogs the last couple of years. I'm glad I finally took the time to do it, because Legend was a hit.
The thing with dystopians nowadays is that even though I love them, sometimes they tend to blend together from being to alike. I can read a book and puzzle together pieces of it that I have read about in other books, until nothing is really original about it. I didn't feel this way with Legend - from the moment I picked it up, I couldn't get it out of my mind. Some parts of it, like mentioned above, is similar to other books but it still draws me in and the similarities I do find have a fresh take. Thumbs up.
"If you want to rebel, rebel from inside the system.That's much more powerful than rebelling outside the system."
I love to follow both June and Day, because they are smart and passionate and unselfish, constantly trying to save or avenge the people they love. Without too much insta-love, they have chemistry from the start, and what feelings they develope through the book feels realistic and still intense. I won't spoil you, you'll just have to pick it up and read for yourself, but as the story goes and you learn more and more, details fall into place, I think the story gets even better. They are two kids trying to make the best out of their situations and their feelings, and that's what pulls me in. I could relate to them.
Also, hints of something bigger, nastier in the background makes me drool for the next book, which - thankfully - I have waiting for me on my bookshelf. The government is obviously up to no good, and I want Day and June to find out what's going on and put a boot in their faces, which I have a feeling they will.
It's a slow burner - it wasn't mindblowing but I feel a pull towards it, and still afterwards it makes me smile. I think I will continue to put in a good word for this one for a long time forward, even after I've forgotten the details. Right now, I'm telling
you
to go read it, because you won't regret it. I certainly don't.
The Series: (Links to Goodreads)
1.
Legend
2.
Prodigy
3.
Champion
Have you read Legend? Did you like it as much as me?