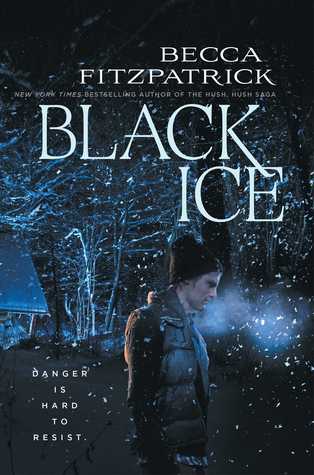 Title: Black Ice
Author: Becca Fitzpatrick
Genres: Young Adult, Romance, Thriller
Pages: 400
Published: October 7th, 2014
Summary:

Brit Pheiffer has trained to backpack the Teton Range, but she isn't prepared when her ex-boyfriend, who still haunts her every thought, wants to join her. Before Britt can explore her feelings for Calvin, an unexpected blizzard forces her to seek shelter in a remote cabin, accepting the hospitality of its two very handsome occupants;but these men are fugitives, and they take her hostage.
Britt is forced to guide the men off the mountain, and knows she must stay alive long enough for Calvin to find her. The task is made even more complicated when Britt finds chilling evidence of a series of murders that have taken place there and in uncovering this, she may become the killer's next target.
But nothing is as it seems, and everyone is keeping secrets, including Mason, one of her kidnappers. His kindness is confusing Britt. Is he an enemy? Or an ally? - Goodreads
_______________________________________________________________________________________________
Review: (Spoiler-free)
So. Black Ice is written by Becca Fitzpatrick, the woman behind the Hush Hush- series, which just happens to be one of the few book-series that I've seriously fangirled over in my still-short life. I was an early fan too - twelve-year-old me bought the first book the very week it came out in stores and I loved it instantly. As you probably guessed, reading her new book was not a choice for me. We've all been there, one time or another.
But, let's cut to the business. In terms of content, Black Ice and Hush Hush are different. This read contains nothing supernatural, but as the synopsis hints of, it does offer other chilling aspects. Such as murderers running wild on a mountain and really bad weather, which mixes well on paper if you ask me. There's a love-story as well, which fits right in. All in all, I enjoyed the story.
"They say that when you're about to die, your life flashes before your eyes. They never tell you that when you watch someone you once loved dying, hovering between this life and the next, it's twice as painful, because you're reliving two lives that traveled one road together."
I was glad to find while I was reading that I could tell it was Becca Fitzpatrick's work. I recognized her language and style of writing, which was nice because the voices of the characters are different and the situations are too. She has a light and witty writing style, that draws you in quickly - it's the kind of language that you don't notice because it melts in.
I read this book in just a few days, and I kept wanting to know what would happen next, because it took some time to figure out what was really going on. In the beginning of the story, though, Brit was whining a bit too much. As the story went on, she changed and it was a part of her character-development, but it was still something I noticed. Small stuff like that made this book a little less for me.
Still, there were parts of it I loved, and while it is not the first book I would pull of my shelf and recommend to my friends, if you're intrigued by the synopsis you should definitely pick it up. I liked it and I hope that Becca Fitzpatrick releases something more soon.
Have you read Black Ice? Did you like it? :)